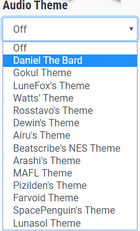 Audio themes add optional sound effects to the Habitica website and Android app. They do not add background music. To find a list of available themes, click the volume icon on the website toolbar, or go to the Settings page through the app menu and tap "Audio Theme". Then, click or tap on a theme to enable it. To disable sound effects, choose "Off".
Available Themes
Edit
Daniel the Bard

Watts' Theme

Gokul Theme

LuneFox's Theme

Rosstavo's Theme

Dewin's Theme

Airu's Theme

Beatscribe's NES Theme

Arashi's Theme
Sound Effects for Actions
Edit
The themes herald your actions, involvement, and advancement in the game with different sound effects.
Themes do not yet play any effects when you perform the following actions:
Currently the only way to change the loudness for the sound clips is using your computer's volume settings. Habitica doesn't have a separate, in-game volume control.
Planned Features
Edit
In future, there might be additional themes and more sound effects for some of the existing themes. Background music may also become available.
There is currently a guild named Pirate Foley in the process of making a Pirate Theme.
For information about contributing to Habitica audio features, see the Guidance for Bards page and the music and sound effects Trello card.
Ad blocker interference detected!
Wikia is a free-to-use site that makes money from advertising. We have a modified experience for viewers using ad blockers

Wikia is not accessible if you've made further modifications. Remove the custom ad blocker rule(s) and the page will load as expected.