Bye, Bye, Butterfry is a quest with a boss called the Flaming Butterfry. Defeating this boss will unlock the Caterpillar Quest Pet. The quest scroll can be purchased from the Quest shop for 4 gems.
Flaming Butterfry's HP (400) makes this a short quest and its strength multiplier (1.5) makes this an easy quest. Without using Warrior or Mage boss damaging skills, a four-person party can typically finish this quest in less than two weeks. This quest is recommended for lower level (less than level 25) characters and smaller parties.
Description
Edit
Your gardener friend @Megan sends you an invitation: "These warm days are the perfect time to visit Habitica's butterfly garden in the Taskan countryside. Come see the butterflies migrate!" When you arrive, however, the garden is in shambles -- little more than scorched grass and dried-out weeds. It's been so hot that the Habiticans haven't come out to water the flowers, and the dark-red Dailies have turned it into a dry, sun-baked, fire-hazard. There's only one butterfly there, and there's something odd about it...
"Oh no! This is the perfect hatching ground for the Flaming Butterfry," cries @Leephon.
"If we don't catch it, it'll destroy everything!" gasps @Eevachu.
Time to say bye, bye to Butterfry!
Objective(s)
Edit
Defeat the Flaming Butterfry.
On Completion
Edit
After a blazing battle, the Flaming Butterfry is captured. "Great job catching the that would-be arsonist," says @Megan with a sigh of relief. "Still, it's hard to vilify even the vilest butterfly. We'd better free this Butterfry someplace safe…like the desert."
One of the other gardeners, @Beffymaroo, comes up to you, singed but smiling. "Will you help raise these foundling chrysalises we found? Perhaps next year we'll have a greener garden for them."
Quest Pets and Mounts
Edit
The eggs obtained from this quest can be used to raise the Caterpillar pets, which can additionally be fed to be raised into mounts.
| | Base | White | Desert | Red | Shade | Skeleton | Zombie | Cotton Candy Pink | Cotton Candy Blue | Golden |
| --- | --- | --- | --- | --- | --- | --- | --- | --- | --- | --- |
| Caterpillar Pet | | | | | | | | | | |
| Caterpillar Mount | | | | | | | | | | |
Promotional Art
Edit
Artwork featuring the Flaming Butterfry was created for the New Pet Quest: Bye, Bye, Butterfry official blog post.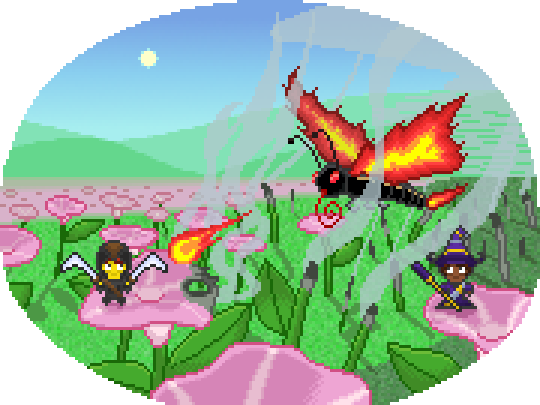 Development and Credits
Edit
Release date: April 13, 2017
Writers: AnnDeLune
Artists: Scroll - UncommonCriminal, Boss - Leephon, Egg - Megan, Mounts - Lilith of Alfheim, Megan, and Beffymaroo, Pets - Megan and Eevachu, Promo - Anna Glassman
Ad blocker interference detected!
Wikia is a free-to-use site that makes money from advertising. We have a modified experience for viewers using ad blockers

Wikia is not accessible if you've made further modifications. Remove the custom ad blocker rule(s) and the page will load as expected.