The Chrome Chat Extension adds an intuitive chat box to the Habitica website. It allows users to chat in the Tavern, their party, and any guilds they are in.
Installation
Install the extension into your Google Chrome browser, then enter your User ID and API in the options page. Your User ID and API can be found at Settings -> API.
The source code is available on GitHub. The extension uses API v3.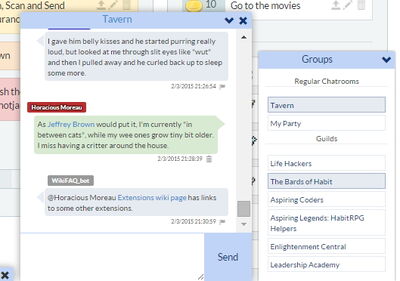 One-click setup
Chat in up to 5 guilds / groups at once, including your party and the Tavern
Click on player's name to add player's name to message window for quick reply.
Click on the guild title to quickly go to the guild.
Click on external links to open in a separate tab in your web browser.
Shows Avatar face related to chat
+1, flag or delete messages
Markdown & emoji support
Multi-line support (using Shift+Enter)
Ability to hide Avatar images to speed up loading.
Using Opera
Edit
The Chrome Chat Extension can be used on the Opera browser if the Download Chrome Extension is installed.
Known Bugs
Edit
All known issues can be found on GitHub.