Your Life, The Role Playing Game
After you finish
Justin the Guide's Tour
, and delete the sample tasks, you can begin your Habitica adventure in three simple steps.
---
Step 1: Enter Tasks
First, enter a few tasks. You can add more later as you think of them.
Bonus: If you need inspiration, see the Sample Habits, Sample Dailies, Sample To-Dos, and Sample Rewards.
---
Step 2: Gain Points by Doing Things in Real Life
Now, start tackling your goals from the list! As you complete activities, you will gain experience points (XP), which help you level-up, and gain gold points (GP), which allow you to purchase Rewards. If you fall into bad habits, or miss your Dailies you will lose health points (HP). In that way, the Habitica experience and health bars serve as a fun indicator of your progress toward your goals.
---
Step 3: Customize and Explore Habitica
Once you're familiar with the basics, you can get even more out of Habitica with these nifty features:
---
Would you like more information?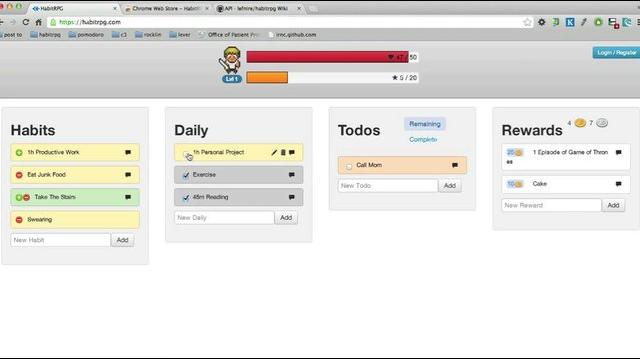 ---
---
Got a few questions about Habitica? Check if your questions have already been answered in the
FAQ
.
Want people to know more about your guild or party? Feel like it needs it's own wiki page? Well we have a place for that! Head over to
The Armory
to create a page in honour of your guild or party.
Community Guidelines
We now have newly devised Community Guidelines. Make sure to read them carefully to keep our community the great place it is.
JiggerD (talk) 11:09, November 4, 2014 (UTC)
Link to External Images!
You can now place externally hosted images using an image URL into our Wiki by using this template. So if you want to link to a HabitRPG picture but don't want to download it to your computer and then upload it to this wiki, this template will be handy for you.
In other news, the Admins can now be seen in green when they post in the forums, so give us a shout if you need our attention. ;)
Breadstrings (talk) 09:42, August 10, 2014 (UTC)
New Contribution Levels System
I'm a bit late with this news, but our new contribution level system is working well thus far. :)
Thank you all for your feedback and patience regarding the levels and I hope to see many of your applications soon. The wiki admins are speeding through applications pretty fast, so the lag time between applying and receiving a response from us is usually less than one week.
For more details about the new system, head over to The Knights Chambers.
Happy Editing! ~Breadstrings 11 Feb 2014
Upcoming Wiki Features
HabitRPG is currently in the process of migrating our old community page into this wiki. So keep an eye out for the integration of poll pages and improved forums (courtesy of JiggerD)!
As a recent addition, you can now go to our Forums if you are looking for a group, just like you used to in the community site.
Happy Habiteering!
~Breadstrings 11 Jan 2014
Wiki tavern challenge
If you want to help improve the wiki, visit Taking the Wiki Live for more details about Contributing to the Great Library of Habitica.

Contrib Gear
You can now unlock a new, top-tier gear set and pet by contributing (code, art, docs, etc) to HabitRPG.


---