Your Life, The Role Playing Game
Learn how to play
Habitica
, an open-source habit building program that treats your life like a Role Playing Game. This wiki is written and maintained by the players of Habitica.
Please join us
!
The wiki is also available in other languages:
Dansk
,
Deutsch
,
Español
,
Français
,
日本語
,
Nederlands
,
Polski
,
Português Brasileiro
,
Русский
,
Türkçe
,
中文 (简体 & 繁體)
.
After you finish
Justin the Guide's Tour
and delete the sample tasks, you can begin your Habitica adventure in three simple steps.
---
Step 1: Enter Tasks
First, enter a few tasks. You can add more later as you think of them.
Bonus: If you need inspiration on which tasks to add, see the Sample Habits, Sample Dailies, Sample To-Dos, and Sample Rewards pages.
---
Step 2: Gain Points by Doing Things in Real Life
Now, start tackling your goals from the list! As you complete tasks and check them off in Habitica, you will gain Experience, which helps you level up, and Gold, which allows you to purchase Rewards. If you fall into bad habits or miss your Dailies, you will lose Health. In that way, the Habitica Experience and Health bars serve as a fun indicator of your progress toward your goals. You'll start seeing your real life improve as your character advances in the game.
---
Step 3: Customize and Explore Habitica
Once you're familiar with the basics, you can get even more out of Habitica with these nifty features:
Want people to know more about your guild or party? Feel like it needs its own wiki page? Well we have a place for that! Head over to
The Armory
to create a page in honor of your guild or party.
3/28/2017
DEWINES CONTRIBUTOR SPOTLIGHT, ECO-FRIENDLY GUILD SPOTLIGHT, AND COMMUNITY GUIDELINES UPDATES
Contributor Spotlight: Dewines

We've posted a new Contributor Spotlight on the blog! Check out our latest interview with Dewines, a Moderator, to learn more about how she uses Habitica.
by Dewines, Beffymaroo, and Lemoness
Guild Spotlight: Eco-Friendly Guilds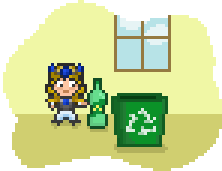 There's a new Guild Spotlight on the blog that highlights the Guilds that can help you as you look for ways to live more eco-friendly! Check it out now to find Habitica's best Earth-conscious communities.
by Beffymaroo
Community Guidelines Updates
We've updated the Community Guidelines as follows:
Included our newest Mods and Staff members, as well as up-to-date information on the admins of the Wiki and Github repo
Updated information about flagging posts and reporting problematic posts, PMs, and profiles
Clarified our policy advising against sharing identifying information in public chat spaces
Updated our policy on content warnings
Clarified information about our banning and muting procedures for users who commit severe infractions
Added minor updates and clarifications to some sections
Please give the updates a read! The Community Guidelines are long, but they're very important to our mission to keep Habitica a safe and happy community. Thanks for helping our community thrive!
by the Habitica Team
---
More News | Questions about the News?
Ad blocker interference detected!
Wikia is a free-to-use site that makes money from advertising. We have a modified experience for viewers using ad blockers

Wikia is not accessible if you've made further modifications. Remove the custom ad blocker rule(s) and the page will load as expected.