Your Life, The Role Playing Game
Learn how to play
Habitica
, an open-source habit building program that treats your life like a Role Playing Game. This wiki is written and maintained by the players of Habitica.
Please join us
!
The wiki is also available in other languages:
Dansk
,
Deutsch
,
Español
,
Français
,
Italiano
,
日本語
,
Nederlands
,
Polski
,
Português Brasileiro
,
Русский
,
Türkçe
,
中文 (简体 & 繁體)
.
After you finish
Justin the Guide's Tour
and delete the sample tasks, you can begin your Habitica adventure in three simple steps.
---
Step 1: Enter Tasks
First, enter a few tasks. You can add more later as you think of them.
Bonus: If you need inspiration on which tasks to add, see the Sample Habits, Sample Dailies, Sample To-Dos, and Sample Rewards pages.
---
Step 2: Gain Points by Doing Things in Real Life
Now, start tackling your goals from the list! As you complete tasks and check them off in Habitica, you will gain Experience, which helps you level up, and Gold, which allows you to purchase Rewards. If you fall into bad habits or miss your Dailies, you will lose Health. In that way, the Habitica Experience and Health bars serve as a fun indicator of your progress toward your goals. You'll start seeing your real life improve as your character advances in the game.
---
Step 3: Customize and Explore Habitica
Once you're familiar with the basics, you can get even more out of Habitica with these nifty features:
Want people to know more about your guild or party? Feel like it needs its own wiki page? Well we have a place for that! Head over to
The Armory
to create a page in honor of your guild or party.
Current News
7/12/2018
USE CASE SPOTLIGHT AND GUILD SPOTLIGHT ON TRAINING YOUR BRAIN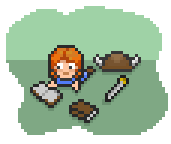 We've got new posts on the blog all about ways to use Habitica to help with challenging your mind and keeping it sharp! First, there's a
Guild Spotlight
that highlights some of the Guilds that can help you as you explore ways to use Habitica to enhance your brain training routine. We've also posted a
Use Case Spotlight
featuring a number of great suggestions for using Habitica's task system to manage your mind-aerobics! These suggestions were submitted by Habiticans in the
Use Case Spotlights Guild
.
Plus, we're collecting user submissions for the next Use Case Spotlight! What are your tips for getting involved in Habitica's exciting Contributing_to_Habitica contributor community? We'll be featuring player-submitted examples in Use Case Spotlights on the Habitica Blog next month, so post your suggestions in the Use Case Spotlight Guild now. We look forward to learning more about how you use Habitica to improve your life and get things done!
by Beffymaroo and the Wiki Wizards

---
More News | Questions about the News?