Ad blocker interference detected!
Wikia is a free-to-use site that makes money from advertising. We have a modified experience for viewers using ad blockers

Wikia is not accessible if you've made further modifications. Remove the custom ad blocker rule(s) and the page will load as expected.
Your Life, The Role Playing Game
Learn how to play
Habitica
, an open-source habit building program that treats your life like a Role Playing Game. This wiki is written and maintained by the players of Habitica.
Please join us
!
Dansk
,
Deutsch
,
Español
,
Français
,
Hrvatski
,
日本語
,
Nederlands
,
Polski
,
Português Brasileiro
,
Русский
,
Türkçe
After you finish
Justin the Guide's Tour
, and delete the sample tasks, you can begin your Habitica adventure in three simple steps.
---
Step 1: Enter Tasks
First, enter a few tasks. You can add more later as you think of them.
Bonus: If you need inspiration, see the Sample Habits, Sample Dailies, Sample To-Dos, and Sample Rewards.
---
Step 2: Gain Points by Doing Things in Real Life
Now, start tackling your goals from the list! As you complete activities, you will gain experience points (XP), which help you level-up, and gain gold points (GP), which allow you to purchase Rewards. If you fall into bad habits, or miss your Dailies you will lose health points (HP). In that way, the Habitica experience and health bars serve as a fun indicator of your progress toward your goals.
---
Step 3: Customize and Explore Habitica
Once you're familiar with the basics, you can get even more out of Habitica with these nifty features:
---
Would you like more information?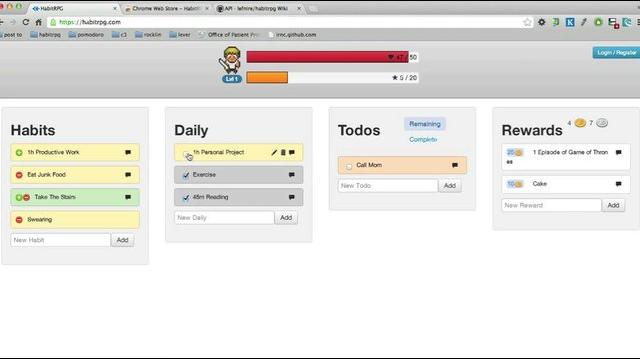 ---
---
Got a few questions about Habitica? Check if your questions have already been answered in the
FAQ
.
Want people to know more about your guild or party? Feel like it needs its own wiki page? Well we have a place for that! Head over to
The Armory
to create a page in honour of your guild or party.
12/8/2016
GIFT-1-GET-1 SUBSCRIPTIONS, NEW PET QUEST, AND HOLIDAY PREP TIPS
Gift a Subscription and Get One Free!
In honor of the season of giving, we're running a special promotion for the next month only. Now when you gift somebody
a subscription
, you get the same subscription for yourself for free!
Subscribers get tons of perks every month, including exclusive items, the ability to buy gems with gold, and increased data history. Plus, it helps keep Habitica running :) To gift a subscription to someone, just open their profile and click on the present icon in the lower-left.
The special promotion will only run until January 6th, so if you've been curious about trying out a subscription, now's the time! Make a friend happy and use all your new gems to go questing together.
by SabreCat and Lemoness
New Pet Quest: Sloth!

The Somnolent Sloth is making everyone sleepy! Can you shake off the snow and get stuff done? Get the latest pet quest,
The Somnolent Sloth
, and earn some speedy sloth pets by completing your real-life tasks.
Written by PixelHunter
Art by JaizakAripaik, Drevian, McCoyly, awakebyjava, PainterProphet, Kiwibot, and greenpencil
Guild Spotlight: Preparing for the Holidays
There's a new
Guild Spotlight on the blog
that highlights the Guilds that can help you prepare for the holidays! Check it out now to find Habitican communities that can keep you stress-free as seasonal celebrations approach.
by Beffymaroo
Use Case Spotlight: Holiday Survival Tips
This month's Use Case Spotlight is about ways to use Habitica to make the holidays more enjoyable! It features a number of great suggestions submitted by Habiticans in the Use Case Spotlights Guild. We hope it helps you!
Plus, we're collecting user submissions for the next spotlight! How do you use Habitica to manage your health and fitness? We'll be featuring player-submitted examples in Use Case Spotlights on the Habitica Blog at the start of next month, so post your suggestions in the Use Case Spotlight Guild now!
by Beffymaroo
---
More News | Questions about the News?