Ad blocker interference detected!
Wikia is a free-to-use site that makes money from advertising. We have a modified experience for viewers using ad blockers

Wikia is not accessible if you've made further modifications. Remove the custom ad blocker rule(s) and the page will load as expected.
Your Life, The Role Playing Game
Learn how to play
Habitica
, an open-source habit building program that treats your life like a Role Playing Game. This wiki is written and maintained by the players of Habitica.
Please join us
!
Dansk
,
Deutsch
,
Español
,
Français
,
Hrvatski
,
日本語
,
Nederlands
,
Polski
,
Português Brasileiro
,
Русский
,
Türkçe
After you finish
Justin the Guide's Tour
, and delete the sample tasks, you can begin your Habitica adventure in three simple steps.
---
Step 1: Enter Tasks
First, enter a few tasks. You can add more later as you think of them.
Bonus: If you need inspiration, see the Sample Habits, Sample Dailies, Sample To-Dos, and Sample Rewards.
---
Step 2: Gain Points by Doing Things in Real Life
Now, start tackling your goals from the list! As you complete activities, you will gain experience points (XP), which help you level-up, and gain gold points (GP), which allow you to purchase Rewards. If you fall into bad habits, or miss your Dailies you will lose health points (HP). In that way, the Habitica experience and health bars serve as a fun indicator of your progress toward your goals.
---
Step 3: Customize and Explore Habitica
Once you're familiar with the basics, you can get even more out of Habitica with these nifty features:
---
Would you like more information?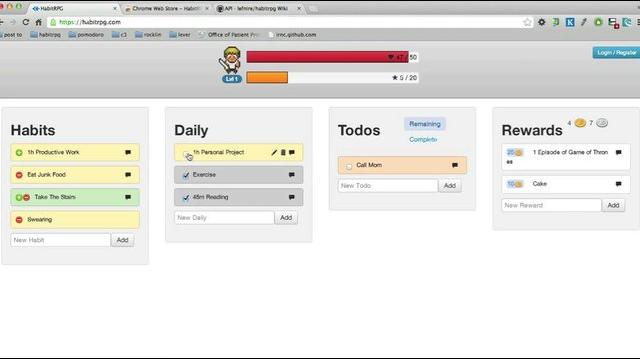 ---
---
Got a few questions about Habitica? Check if your questions have already been answered in the
FAQ
.
Want people to know more about your guild or party? Feel like it needs its own wiki page? Well we have a place for that! Head over to
The Armory
to create a page in honour of your guild or party.
12/1/2016
NEW BACKGROUNDS AND ARMOIRE ITEMS, IOS UPDATE, TAKE THIS CHALLENGE, AND HABITICA STAFF MEMBER
December Backgrounds and Armoire Items!
We've added three new backgrounds to the
Background Shop
! Now your avatar can set off Winter Fireworks, purchase presents from a Winter Shop, and dance through the Shimmering Ice Prisms.
Plus, there's new gold-purchasable equipment in the Enchanted Armoire, including the Wood Elf set. Better work hard on your real-life tasks to earn all the pieces! Enjoy :)
by FirozTaverbi, Lilith of Alfheim, KusSv, ACE, and beffymaroo
New iOS Update
We've released a new iOS update that includes check-in incentives!
The update also focuses on stability, fixing the issue with Dailies refreshing and resolving several crashes. Be sure to download it now for a better Habitica experience!
If you like the improvements that we've been making to our app, please consider reviewing this new version. It really helps us out! Old reviews get hidden with each update, but if you go to the review section you can re-post them again with a single tap. We hope you enjoy the update!
by viirus
New Take This Challenge
The next Take This Challenge has launched,
Hero's Triumph
, with a focus on volunteering to help others. Be sure to check it out to earn additional pieces of the Take This armor set!
Take This is a nonprofit that seeks to inform the gamer community about mental health issues, to provide education about mental disorders and mental illness prevention, and to reduce the stigma of mental illness.
Congratulations to the winners of the last Take This Challenge, "Keep Calm and Carry On!": grand prize winner Rone Filho, and runners-up smurffigueiredo12, spaceauddity, Анна Солопенко, YokiHan, and 淳. Plus, all participants in that Challenge have received a piece of the Take This item set. It is located in your Rewards column. Enjoy!
by Doctor B, the Take This team, Lemoness, and SabreCat
New Staff Member

We're so excited to welcome a new staff member onto the team: our long-time contributor TheHollidayInn, aka Keith! Go congratulate him in the Tavern :)
by the Habitica Team
---
More News | Questions about the News?