Your Life, The Role Playing Game
Learn how to play
Habitica
, an open-source habit building program that treats your life like a Role Playing Game. This wiki is written and maintained by the players of Habitica.
Please join us
!
The wiki is also available in other languages:
Dansk
,
Deutsch
,
Español
,
Français
,
Italiano
,
日本語
,
Bahasa Melayu
,
Nederlands
,
Polski
,
Português Brasileiro
,
Русский
,
Türkçe
,
中文 (简体 & 繁體)
.
After you finish
Justin the Guide's Tour
and delete the sample tasks, you can begin your Habitica adventure in three simple steps.
---
Step 1: Enter Tasks
First, enter a few tasks. You can add more later as you think of them.
Bonus: If you need inspiration on which tasks to add, see the Sample Habits, Sample Dailies, Sample To-Dos, and Sample Rewards pages.
---
Step 2: Gain Points by Doing Things in Real Life
Now, start tackling your goals from the list! As you complete tasks and check them off in Habitica, you will gain Experience, which helps you level up, and Gold, which allows you to purchase Rewards. If you fall into bad habits or miss your Dailies, you will lose Health. In that way, the Habitica Experience and Health bars serve as a fun indicator of your progress toward your goals. You'll start seeing your real life improve as your character advances in the game.
---
Step 3: Customize and Explore Habitica
Once you're familiar with the basics, you can get even more out of Habitica with these nifty features:
Want people to know more about your guild or party? Feel like it needs its own wiki page? Well we have a place for that! Head over to
The Armory
to create a page in honor of your guild or party.
2/21/2018
WORLD BOSS RAGE STRIKE, GUILD SPOTLIGHT, AND WIKI WEDNESDAY
World Boss: Dysheartener attacks the Seasonal Sorceress!
Oh, no! After feasting on our undone Dailies, the Dysheartener has gained the strength to unleash its Shattering Heartbreak attack. With a shrill shriek, it brings its spiny forelegs down upon the pavilion that houses the Seasonal Shop! The concussive blast of magic shreds the wood, and the Seasonal Sorceress is overcome by sorrow at the sight.
Quickly, let's keep doing our Dailies so that the beast won't strike again!
by Lemoness, Beffymaroo, SabreCat, viirus, Apollo, and piyorii

Sharing the Love: Guilds for Interpersonal Relationships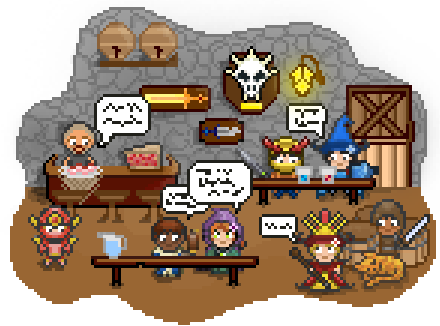 There's a new Guild Spotlight on the blog that highlights the Guilds that can help you as you work on building and maintaining your relationships with others! Check it out now to find Habitica's best places for support and help with your interpersonal connections.
by Beffymaroo

Blog Post: Routines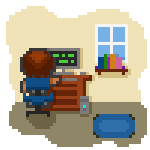 This month's featured Wiki article is about Routines! We hope that it will help you as you work on structuring your time and tasks. Be sure to check it out, and let us know what you think by reaching out on Twitter, Tumblr, and Facebook.
by Beffymaroo and the Wiki Wizards

---
More News | Questions about the News?