Your Life, The Role Playing Game
Learn how to play
Habitica
, an open-source habit building program that treats your life like a Role Playing Game. This wiki is written and maintained by the players of Habitica.
Please join us
!
Dansk
,
Deutsch
,
Español
,
Français
,
Hrvatski
,
日本語
,
Nederlands
,
Polski
,
Português Brasileiro
,
Русский
,
Türkçe
After you finish
Justin the Guide's Tour
, and delete the sample tasks, you can begin your Habitica adventure in three simple steps.
---
Step 1: Enter Tasks
First, enter a few tasks. You can add more later as you think of them.
Bonus: If you need inspiration, see the Sample Habits, Sample Dailies, Sample To-Dos, and Sample Rewards.
---
Step 2: Gain Points by Doing Things in Real Life
Now, start tackling your goals from the list! As you complete activities, you will gain experience points (XP), which help you level-up, and gain gold points (GP), which allow you to purchase Rewards. If you fall into bad habits, or miss your Dailies you will lose health points (HP). In that way, the Habitica experience and health bars serve as a fun indicator of your progress toward your goals.
---
Step 3: Customize and Explore Habitica
Once you're familiar with the basics, you can get even more out of Habitica with these nifty features:
---
Would you like more information?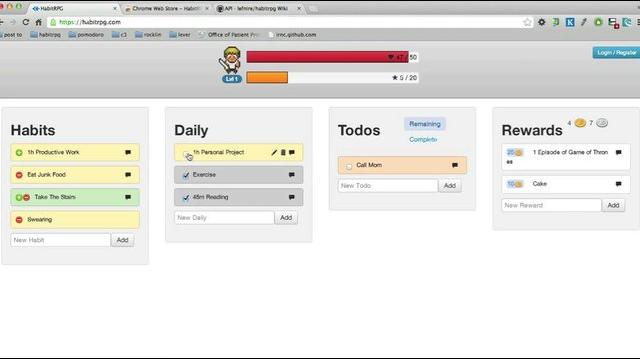 ---
---
Got a few questions about Habitica? Check if your questions have already been answered in the
FAQ
.
Want people to know more about your guild or party? Feel like it needs its own wiki page? Well we have a place for that! Head over to
The Armory
to create a page in honour of your guild or party.
10/25/2016

SPECTRAL FLAME ITEM SET AND ENCHANTED ARMOIRE CHANGES
October Subscriber Items Revealed!

The October Subscriber Item has been revealed: the Spectral Flame Item Set! You still have 6 days to subscribe and receive the item set.
Subscribers also receive the ability to buy gems for gold -- the longer you subscribe, the more gems you can buy per month! There are other perks as well, such as longer access to uncompressed data. Best of all, subscriptions let us keep Habitica running. Thank you very much for your support -- it means a lot to us.
by Lemoness
Enchanted Armoire Changes
We have an exciting change to the Enchanted Armoire! We've received a lot of feedback about how motivating users find the random reward system, so the Enchanted Armoire will now be available to all users in the Reward Column, regardless of whether or not they've already unlocked the Ultimate Gear achievement.
Every time you click on the Enchanted Armoire, you'll have a chance to earn a random piece of equipment, food, or experience. New equipment is added every month! Now go work hard on your tasks to collect it all.
by SabreCat
---
More News | Questions about the News?