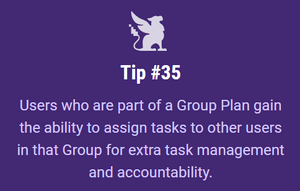 Tips
appear while the Habitica site loads. Users are presented with a loading page, which includes a randomly chosen tip from the list below.
Tip #1. Check tasks on the go with the Habitica mobile apps.
Tip #2. Reach level 100 to unlock the Orb of Rebirth for free and start a new adventure!
Tip #3. Use emoji to quickly differentiate between your tasks.
Tip #4. Use the # sign before a task name to make it really big!
Tip #5. It's best to cast buffs in the morning so they last longer.
Tip #6. Occasionally re-evaluate your tasks to make sure they're up-to-date!
Tip #7. Some backgrounds connect perfectly if party members use the same background. Ex: Mountain Lake, Pagodas, and Rolling Hills.
Tip #8. Send a PM to someone by clicking the envelope near their name in chat!
Tip #9. Visit the Guild Leaders & Challenge Creators Guild for advice on starting a Guild.
Tip #10. You can win gems by competing in Challenges. New ones are added every day!
Tip #11. If you enjoy dressing up your avatar, check out the Costume Carnival Guild.
Tip #12. Join the "Challenge... Accepted" Guild for regularly scheduled random challenges.
Tip #13. Having more than four Party members increases accountability!
Tip #14. You can add headers or inspirational quotes to your list as Habits with no (+/-).
Tip #15. Add checklists to your To-Dos to increase your rewards!
Tip #16. Check out the Data tab for valuable insights on your progress.
Tip #17. Using Tags can make an unwieldy task list very manageable!
Tip #18. Habits that are just positive or just negative gradually "fade" and return to yellow.
Tip #19. Boost your Intelligence Stat to gain more XP when you complete a task.
Tip #20. Boost your Perception Stat to get more drops and gold.
Tip #21. Boost your Strength Stat to do more boss damage or get critical hits.
Tip #22. Boost your Constitution Stat to lessen the damage from incomplete Dailies.
Tip #23. Click the bar graph icon on your tasks to see a graph showing your progress.
Tip #24. Habitica is Open Source! Ask in the Aspiring Legends Guild if you want to contribute.
Tip #25. The four seasonal Grand Galas start near the solstices and equinoxes .
Tip #26. An arrow to the left of someone's level number means they're currently buffed.
Tip #27. Did a Daily yesterday, but forgot to check it off? Don't worry! With Record Yesterday's Activity, you'll have a chance to record what you did before starting your new day.
Tip #28. Set a Custom Day Start under Settings > Site to control when your day restarts.
Tip #29. Complete all your Dailies to get a Perfect Day Buff that increases your stats!
Tip #30. You can invite people to Guilds, not just Parties.
Tip #31. Check out the pre-made lists in the 📜 Library of Tasks and Challenges Guild for example tasks.
Tip #32. Lots of Habitica's code, art, and writing is made by volunteer contributors! Anyone can help.
Tip #33. Check out The Bulletin Board 📌 guild for news about guilds, challenges, and other player-created events - and announce your own there!
Information for Developers
This section contains information of interest to Habitica developers. It is not of use for normal gameplay or task management.
Ad blocker interference detected!
Wikia is a free-to-use site that makes money from advertising. We have a modified experience for viewers using ad blockers

Wikia is not accessible if you've made further modifications. Remove the custom ad blocker rule(s) and the page will load as expected.