The Rogue is a class that citizens of Habitica can choose when they reach level 10.
Rogues earn more gold and find drops more often than other classes, and they also earn more frequent and rewarding critical hits. Their skills can generate gold and experience from tasks, provide their party with a buff to gold and drop earning rate, and allow the Rogue to dodge damage that Dailies deal. They are valuable allies to have in collection quests.
In short, the Rogue is a good class for those who are not interested in becoming a Healer, but still want to be able to survive relatively well while gaining lots of items and GP when a task is completed. This is ideal for people who want to unlock the best possible gear as soon as possible. This also benefits people who have custom Rewards and people attempting to earn the Beast Master achievement.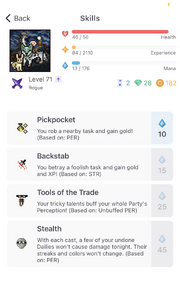 All skills' effects are based on the caster's attributes at the time of casting, not on the attributes of other party members.
Some skills are also affected by the value of the task they are cast on.
Some skills adjust the value of the task they are cast on. They have no ongoing effect on the task.
Skills never mark a task as complete. You do not have to complete a task before or after casting a skill on it. You can cast a skill on a complete or incomplete task.
All skills that buff the party also buff the caster, unless stated otherwise.
Buffs are applied immediately and persist until each party member's next Cron.
Skills do not affect quests, unless stated otherwise.
Consult the "Skills and Buffs" section in the User Data Display Tool to learn more about the precise effect each skill will have when you cast it.
Equipment
Edit
Rogues wield a weapon in each hand. While they can use shields from the Warrior and Healer classes and the two handed staff from the Mage class, only Rogue weapons give a class bonus. The weapon that is used in the shield-hand slot is purchased separately.
Gathering all the Rogue
Basic Gear
gives players the Ultimate Gear - Rogue
achievement
. It costs 1340 gold to buy the whole set of basic Rogue gear.
The Grand Gala sets each cost 310 gold.
The tables below show the pieces of equipment that can be purchased through the Rewards column by players who do not already own them.
Grand Gala Equipment
Edit
This table shows the special class gear from all Grand Galas. Equipment from past Grand Galas is available in the Seasonal Shop, which opens during each Grand Gala.
Year/Grand Gala/Item Set
Weapon
Off Hand
Armor
Head
Accessory
2017
Spring Fling
Sneaky Bunny

Karrotana

Karrotana

Sneaky Bunny Suit

Sneaky Bunny Helm

Red Bunny Ears
2016-2017
Winter Wonderland
Frosty Rogue

Ice Axe

Ice Axe

Frosty Armor

Frosty Helm
2016
Fall Festival
Black Widow Rogue

Spiderbite Dagger

Spiderbite Dagger

Black Widow Armor

Black Widow Helm
2016
Summer Splash
Eel Rogue

Electric Rod

Electric Rod

Eel Tail

Eel Helm
2016
Spring Fling
Clever Dog

Fire Bolas

Fire Bolas

Canine Camo Suit

Good Doggy Mask

Green Dog Ears
2015-2016
Winter Wonderland
Cocoa Rogue

Cocoa Mug

Cocoa Mug

Cocoa Armor

Cocoa Helm
2015
Fall Festival
Bat-tle Rogue

Bat-tle Ax

Bat-tle Ax

Bat-tle Armor

Bat-tle Wings
2015
Summer Splash
Reef Renegade

Firing Coral

Firing Coral

Ruby Tail

Renegade Hat

Renegade Sash
2015
Spring Fling
Sneaky Squeaker

Exploding Squeak

Exploding Squeak

Squeaker Robes
Fireproof Helm

Yellow Mouse Ears
2014-2015
Winter Wonderland
Icicle Drake

Ice Spike

Ice Spike

Icicle Drake Armor

Icicle Drake Mask
2014
Fall Festival
Vampire Smiter

Silver Stake

Silver Stake

Bloodred Robes

Bloodred Hood
2014
Summer Splash
Roguish Pirates

Pirate Cutlass

Pirate Cutlass

Pirate Robes

Pirate Hat

Roguish Eyepatch
2014
Spring Fling
Stealthy Kitty

Hook Claws

Hook Claws

Sleek Cat Suit

Stealthy Kitty Mask

Purple Cat Ears
2013-2014
Winter Wonderland
Ski-sassin

Ski-sassin Pole

Ski-sassin Pole

Ski-sassin Parka

Ski-sassin Helm
Ad blocker interference detected!
Wikia is a free-to-use site that makes money from advertising. We have a modified experience for viewers using ad blockers

Wikia is not accessible if you've made further modifications. Remove the custom ad blocker rule(s) and the page will load as expected.