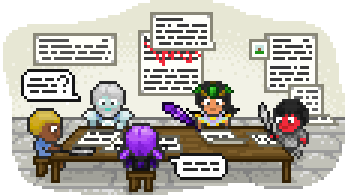 Quests are one of the most popular features of Habitica. Players collaborate with their parties to defeat bosses or collect required items. Each quest has a story with a beginning that sets the scene and describes the players' mission, as well as an ending that describes the eventual outcome if the party is successful. This page gives credit to the storytellers who craft the imaginative quest lines that are so appealing to players.
Ad blocker interference detected!
Wikia is a free-to-use site that makes money from advertising. We have a modified experience for viewers using ad blockers

Wikia is not accessible if you've made further modifications. Remove the custom ad blocker rule(s) and the page will load as expected.