The CRITICAL BUG is a quest with an eponymous boss. Defeating this boss will unlock the Beetle Quest Pet. The quest scroll can be purchased from the Quest Shop for 4 gems.
The CRITICAL BUG's HP (500) makes this a medium length quest and its strength multiplier (1.5) makes this an easy quest. Without using Warrior or Mage boss damaging skills, a four-person party can typically finish this quest in about two weeks.
Description
Edit
Something in the domain of Habitica has gone awry. The Blacksmiths' forges have extinguished, and strange errors are appearing everywhere. With an ominous tremor, an insidious foe worms from the earth... a CRITICAL BUG! You brace yourself as it infects the land, and glitches begin to overtake the Habiticans around you. @starsystemic yells, "We need to help the Blacksmiths get this Bug under control!" It looks like you'll have to make this programmer's pest your top priority.
Objective(s)
Edit
Defeat the CRITICAL BUG.
On Completion
Edit
With a final attack, you crush the CRITICAL BUG. @starsystemic and the Blacksmiths rush up to you, overjoyed.
"I can't thank you enough for smashing that bug! Here, take these."
You are presented with three shiny beetle eggs. Hopefully these little bugs will grow up to help Habitica, not hurt it.
Quest Pets and Mounts
Edit
The eggs obtained from this quest can be used to raise the Beetle pets, which can additionally be fed to be raised into mounts.
Base
White
Desert
Red
Shade
Skeleton
Zombie
Cotton
Candy
Pink
Cotton
Candy
Blue
Golden
Beetle Pet
Beetle Mount
Promotional Art
Edit
Artwork featuring the CRITICAL BUG was created for the official blog post.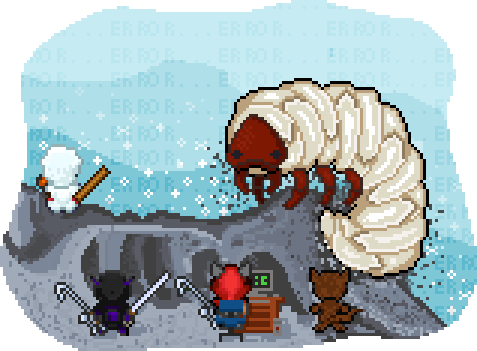 Development and Credits
Edit
Release date: 11 October, 2016
Writer: Emily Austin
Artists: Scroll - UncommonCriminal, Boss - starsystemic, Egg - starsystemic, Mounts - starsystemic, Pets - starsystemic, Promotional Scene - karathina