| | |
| --- | --- |
| | Bailey is the bringer of official news; you can follow her on Twitter. The news on this page is a direct copy of the in-game news (signatures included). As such, it is licensed under the CC-by-NC-SA 3.0 license. Occasionally, some liberty is taken in correcting spelling or adjusting line breaks to make up for the difference in format. To see the in-game news, use the "Show Bailey" option under Settings (direct link). |
---
Here you see all the News of 2017.
Want to read news from other years as well? Have a look here:
Just looking for a date? Take a compressed look at the story on the Habitica History pages:
Current News
Edit
3/28/2017
Edit
DEWINES CONTRIBUTOR SPOTLIGHT, ECO-FRIENDLY GUILD SPOTLIGHT, AND COMMUNITY GUIDELINES UPDATES
Contributor Spotlight: Dewines
Edit
We've posted a new Contributor Spotlight on the blog! Check out our latest interview with Dewines, a Moderator, to learn more about how she uses Habitica.
by Dewines, Beffymaroo, and Lemoness
Guild Spotlight: Eco-Friendly Guilds
Edit
There's a new Guild Spotlight on the blog that highlights the Guilds that can help you as you look for ways to live more eco-friendly! Check it out now to find Habitica's best Earth-conscious communities.
by Beffymaroo
Community Guidelines Updates
Edit
We've updated the Community Guidelines as follows:
Included our newest Mods and Staff members, as well as up-to-date information on the admins of the Wiki and Github repo
Updated information about flagging posts and reporting problematic posts, PMs, and profiles
Clarified our policy advising against sharing identifying information in public chat spaces
Updated our policy on content warnings
Clarified information about our banning and muting procedures for users who commit severe infractions
Added minor updates and clarifications to some sections
Please give the updates a read! The Community Guidelines are long, but they're very important to our mission to keep Habitica a safe and happy community. Thanks for helping our community thrive!
by the Habitica Team
---
3/23/2017
Edit
SHIMMER SHIMMER! MARCH SUBSCRIBER ITEMS AND MAGIC HATCHING POTIONS
March Subscriber Items Revealed!
Edit
The March Subscriber Item Set has been revealed: the Shimmer Armor Item Set! You only have eight days to receive the item set when you subscribe. If you're already an active subscriber, reload the site and then head to Inventory > Market to claim your gear!
Subscribers also receive the ability to buy gems for gold -- the longer you subscribe, the more gems you can buy per month! There are other perks as well, such as longer access to uncompressed data. Best of all, subscriptions let us keep Habitica running. Thank you very much for your support -- it means a lot to us.
by Lemoness
Shimmer Hatching Potions
Edit
There's a new pet breed in town! Between now and April 19th, you can buy Shimmer Hatching Potions from the Market and use them to hatch any standard pet egg. (Magic Hatching Potions do not work on Quest Pet eggs.) Shimmer Potion Pets aren't picky, so they'll happily eat any kind of food that you feed them!
After they're gone, it will be at least a year before the Shimmer Hatching Potions are available again, so be sure to get them now!
by Teto Forever, tricksy.fox, and SabreCat
---
3/21/2017
Edit
SPRING FLING BEGINS! LIMITED EDITION EQUIPMENT, SEASONAL SHOP OPENS, AND SEASONAL AVATAR CUSTOMIZATIONS!
Limited Edition Class Outfits
Edit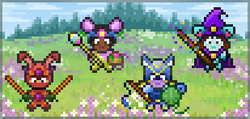 From now until April 30th, limited edition outfits are available in the Rewards column! Depending on your class, you can be a Floral Mouse, Feline Warrior, Canine Conjuror, or Sneaky Bunny. You'd better get productive to earn enough gold before your time runs out...
by beffymaroo, Scarvia, Awesome kitty, usnbfs, and SabreCat
Seasonal Shop Opens
Edit
Seasonal Shop
has opened! It's stocking springtime Seasonal Edition goodies at the moment, including past spring outfits. Everything there will be available to purchase during the Spring Fling event each year, but it's only open until April 30th, so be sure to stock up now, or you'll have to wait a year to buy these items again!
by Lemoness, Balduranne, PainterProphet, and SabreCat
Shimmer Hair Colors and Pastel Skin Set
Edit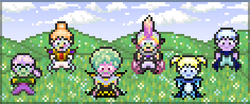 The Seasonal Edition Shimmer Hair Colors and Pastel Skin Set are now available for purchase in the
avatar customizations page
! These skin sets will only be available to purchase until April 30th, and then they will disappear from the shop until next Spring Fling. If you buy them, though, you will have access to them year-round!
by Lemoness and McCoyly
---
3/16/2017
Edit
SUBSCRIPTIONS ON iOS AND NEW BLOG POST
iOS Update: Subscriptions!
Edit
We've released a new iOS update which lets you subscribe through the app!
Subscribers help us keep the app running and updating, so as a thank-you, they get exclusive monthly items, the ability to buy gems with gold, and more. If you're already a subscriber, you can now use the app to open your monthly gift and buy gems with gold!
Other improvements include a redesign of the task list and new icons for the header! Habits also now will show when they were last completed. We've also smashed some bugs. Be sure to download the update now for a better Habitica experience!
If you like the improvements that we've been making to our app, please consider reviewing this new version. It really helps us out! Old reviews get hidden with each update, but if you go to the review section you can re-post them again with a single tap. We hope you enjoy the update!
by viirus
Blog Post: Sample Habits
Edit
This month's featured Wiki article is about Sample Habits! We hope that it will help you as you consider new Habits you'd like to establish or avoid. Be sure to check it out, and let us know what you think by reaching out on Twitter, Tumblr, and Facebook.
by Beffymaroo and the Wiki Wizards
---
3/14/2017
Edit
NEW PET QUEST AND TIME TRAVELER ITEM SETS
New Pet Quest: Peacocks!
Edit
Can't choose a single task to accomplish? Sounds like the Push-and-Pull Peacock has you paralyzed by indecision! Get the latest pet quest from the Quest Shop and earn some proud peacock pets by completing your real-life tasks.
Written by Elizabeth Queenan
Art by Cecily Perez, Lilith of Alfheim, PainterProphet, Pfeffernusse, Draayder, Podcod, and McCoyley
Steampunk Peacock Item Sets
Edit
Want your avatar to express your excitement about the new peacock pets and mounts? Now the Time Travelers are offering two new feathery steampunk Equipment sets that you can purchase with Mystic Hourglasses!
Mystic Hourglasses are awarded to people who have had a subscription or group plan membership for at least three consecutive months. For every three months that you're a subscriber or group plan member, you'll earn an additional Mystic Hourglass! You can also earn Mystic Hourglasses instantly by purchasing a multi-month subscription bundle.
Thanks for supporting Habitica! We hope that you enjoy your new outfits.
By AnnDeLune, Beffymaroo, Lemoness, and SabreCat
---
GROUP PLAN IMPROVEMENTS AND HABIT COUNTERS
Group Plan Improvements: Subscription Benefits and Exclusive Jackalope Mount for All Group Plan Members!
Edit
We're thrilled to announce that we've added some new features to the group plans.
Based on your feedback, all members of a group plan now automatically get:
Full subscription benefits, including the exclusive monthly items and the ability to buy gems with gold
A brand-new exclusive Jackalope Mount
The classic task-sharing features from the original version of group plans, including the ability to assign tasks to specific group members and the ability to approve whether or not tasks were actually completed.
A group chat cap of 400 messages instead of the usual 200 messages.
More features will be coming in the future! You can learn more about group plans on their information page. Thanks so much for supporting Habitica!
by TheHollidayInn, SabreCat, Alys, paglias, and all our hard-working testers
New Habit Counters!
Edit
We've launched a new and exciting feature to help you keep track of your progress on Habits! Habits now display a count of how many times you've clicked them, positive or negative. In Advanced Options, you can choose how often the counter resets to 0: daily (the default), weekly, or monthly. We hope this makes your Habit-building experience even better!
by astolat, TheHollidayInn, paglias, Alys, and SabreCat
---
MARCH BACKGROUNDS AND ARMOIRE ITEMS
New Backgrounds and Enchanted Armoire Items!
Edit
We've added three new backgrounds to the Background Shop! Now your avatar can ascend a Magic Beanstalk, explore the Meandering Cave, and carouse in the Mistiflying Circus.
Plus, there's new gold-purchasable equipment in the Enchanted Armoire, including the Mushroom Druid Set. Better work hard on your real-life tasks to earn all the pieces! Enjoy :)
by Witticaster, Stefalupagus, KusSv, and Katy133
---
NEXT TAKE THIS CHALLENGE AND USE CASE SPOTLIGHT
Take This Challenge for March!
Edit
The next Take This Challenge has launched, It's Dangerous to Go Alone!, with a focus on maintaining offline relationships. You might recognize this Challenge as a repeat of the first Take This Challenge we held, back in June of 2016. We will continue to revisit each of the Challenges in the Take This series, allowing more people to participate for the exclusive armor items and chances at Gem prizes!
Take This is a nonprofit that seeks to inform the gamer community about mental health issues, to provide education about mental disorders and mental illness prevention, and to reduce the stigma of mental illness.
Congratulations to the winners of the last Take This Challenge, "Notice Me, Senpai!": grand prize winner Lucy Zhuang, and runners-up Emithyst, 5h4d0wd4nc3r, rjboo, Ellie Goldshire, and Alex the Healer! Plus, all participants in that Challenge have received a piece of the Take This item set if they hadn't completed the set already. It is located in your Rewards column. Enjoy!
by Doctor B, the Take This team, Lemoness, and SabreCat
Use Case Spotlight: Living Eco-Friendly
Edit
This month's Use Case Spotlight is about Living Eco-Friendly! It features a number of great suggestions submitted by Habiticans in the Use Case Spotlights Guild. We hope it helps any of you who might be trying to live in a more Earth-friendly way.
Plus, we're collecting user submissions for the next spotlight! How do you use Habitica to manage your relaxing hobbies? We'll be featuring player-submitted examples in Use Case Spotlights on the Habitica Blog at the start of next month, so post your suggestions in the Use Case Spotlight Guild now. We look forward to learning more about how you use Habitica to improve your life and get things done!
by Beffymaroo
---
February 2017
Edit
January 2017
Edit
Ad blocker interference detected!
Wikia is a free-to-use site that makes money from advertising. We have a modified experience for viewers using ad blockers

Wikia is not accessible if you've made further modifications. Remove the custom ad blocker rule(s) and the page will load as expected.